This article is a stub.
You can help by logging in and expanding it.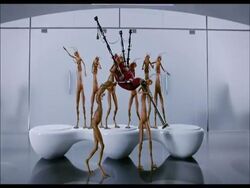 The Worms, also known as Annelids are a strange alien species introduced in the 1997 film Men in Black. They have a small role in the first film, but have a bigger role in the animated series and second film.
The worms seem to love coffee, and are very energetic, and even perverted. The Annelids were better known to the Men in Black as the "Worm Aliens." Living on the home world of the human race includes a lack of oversight from the race's emperor. Most Worm Aliens venture on hedonistic binges partaking in vices that are forbidden on their home world of Takwella.
Ad blocker interference detected!
Wikia is a free-to-use site that makes money from advertising. We have a modified experience for viewers using ad blockers

Wikia is not accessible if you've made further modifications. Remove the custom ad blocker rule(s) and the page will load as expected.