3rd Dimensional Pleiadians: Two arms, two legs, body, head; the Pleiadian ears are somewhat lower than yours, but Pleiadians are so much genetically like you that they consider you to be their cousins.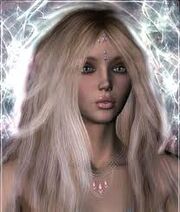 If a Pleiadian were walking down the street, you would all turn and remark about how they look (they look terrific). You would notice that they're different but wouldn't necessarily consider them alien. That's how similar physically and genetically they are to you. 

9th Dimensional (light body) Pleiadians: We don't display ourselves [to humans] before you're ready- Because what happens when you view us in your physical reality is that it shatters your sense of reality, and there is no putting the genie back in the bottle there. So that's why we wait until you're at a point where your frequency is high enough where you can see us.
Their symbols were also at times birds or winged figures. They also used the symbol of the seven stars. Physically, and again we must generalize, they were similar in skin, hair and eye color to the Lyrans but much smaller. So, for instance, a typical Pleiadian woman would look very much like this channel in size. Now the Pleiadians had a very, very deep love of mankind. It would take too much time to explain why, but genetically they are connected to you, so often throughout history they have been drawn back to Earth in order to help humans.
Not only do they have a genetic connection but they also have an emotional connection. They always tried to nurture and protect you like a mother. Now you know that you may have two parents, a mother and a father who love you very much, but at the same time these two parents may also fight over you. Sometimes they may even manipulate you to get back at the spouse. The same thing happened with these ETs. They often, in their love for you, fought over you. Unfortunately, they also at times manipulated you.
Because the ETs often fought amongst themselves there were often territory disputes about the land and the people of Earth, and so often the Earth was divided into sections and certain ET rulers would be responsible for certain sections. It is unfortunate that a lot of the information about these times has been lost. However, some of it remains in the Sumerian texts and we will talk a little bit about that later. Before we go into the future it is important to say one thing. Ancient humankind was never a victim of these ETs. All beings create their own reality for their own purposes of learning and growth, and ancient humankind was the same way. We never like to put humans in the role of being victims.
Ad blocker interference detected!
Wikia is a free-to-use site that makes money from advertising. We have a modified experience for viewers using ad blockers

Wikia is not accessible if you've made further modifications. Remove the custom ad blocker rule(s) and the page will load as expected.