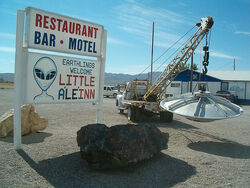 The Little A'Le'Inn (previously known as the Rachel Bar and Grill[1]) is a bar, motel, and inn located in Rachel, Nevada along the Extraterrestrial Highway. The inn is located near the controversial military aircraft testing base Area 51, and is described as the closest place to Area 51 where normal visitors are welcome.[2]
The business has been running for over 20 years and is frequented by many visitors to Area 51. Visitors are also encouraged to share their own alleged tales of encounters with aliens or abductions. The inn has a vast variety of alien and UFO-themed merchandise for sale, such as mugs, postcards, posters, toys, inflatable aliens, etc. and offers an "Alien Burger".
Gallery
References
Ad blocker interference detected!
Wikia is a free-to-use site that makes money from advertising. We have a modified experience for viewers using ad blockers

Wikia is not accessible if you've made further modifications. Remove the custom ad blocker rule(s) and the page will load as expected.