This article is a stub.
You can help by logging in and expanding it.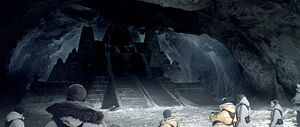 The Predator Temple is an ancient pyramid built by the Predator species, presumably with the help of an ancient human civilization. The temple was featured in the 2004 film Alien vs. Predator. The temple is located in Antarctica and was buried in the ice due to an explosion created by a Predator bomb when the species was about to lose a battle with thousands of Xenomorphs.