This article is a stub.
You can help by logging in and expanding it.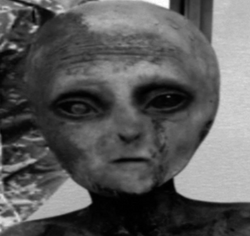 The Lincoln National Forest incident was an alleged crash of a UFO and the recovery of a grey-like extraterrestrial being in Lincoln National Forest, New Mexico that took place in March - April 2016. A picture of the alleged alien recovered from the crash surfaced on the internet in April 2016, though it did not spark much attention in the alien and UFO research community.
It wasn't long before the entire case was debunked as a hoax. The alien in the picture was actually taken from an episode of the popular TV series The X-Files, wherein an actress in prosthetics portrayed the alien who crash-landed in Roswell in 1947 during a flashback sequence in the first episode of season 10.[1]
References
Ad blocker interference detected!
Wikia is a free-to-use site that makes money from advertising. We have a modified experience for viewers using ad blockers

Wikia is not accessible if you've made further modifications. Remove the custom ad blocker rule(s) and the page will load as expected.