This article is a stub.
You can help by logging in and expanding it.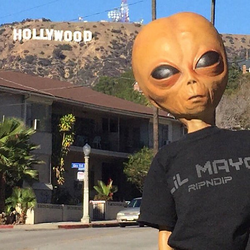 Lil Mayo is an internet meme depicting a grey-like alien, often dancing to rap songs, smoking marijuana, and/or drinking beer. The meme's height of popularity began in August 2015, when videos of the alien began surfacing on a number of social media platforms, most notably Twitter, Instagram, and Vine. The alien prop used to create Lil Mayo in the videos is supposedly a screen-used prop from the popular TV series The X-Files, of which only 70 were made. However, this has yet to be officially confirmed.
External links
Ad blocker interference detected!
Wikia is a free-to-use site that makes money from advertising. We have a modified experience for viewers using ad blockers

Wikia is not accessible if you've made further modifications. Remove the custom ad blocker rule(s) and the page will load as expected.