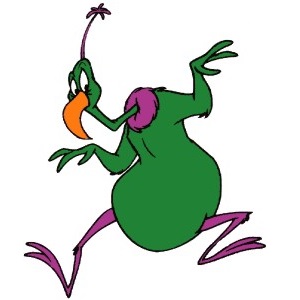 Instant Martians
 are the names given to a species of Martian that 
Marvin the Martian
 created them growing from seeds as quickly-deployable soldiers. They serve as henchmen and army chief of the evil martian dwarf and also drive advanced vehicles and patrol him evil space bases and stations. Because an Instant Martian can comprehend and follow orders immediately after reconstitution, it can be assumed that their seed forms found in fact a style of cryptobiotic tun similar to a tardigrade. Even so, they are either not particularly clever or even perhaps suffer from a sort of "reconstitution sickness" as they have been seen to be outsmarted by a simple, if particularly cunning, Earth rabbit.
Marvin the Martian has sent them after Bugs Bunny, but they were all outsmarted by him. Prior to this short, aliens that looked very similar to them were encountered by Porky Pig and Sylvester the Cat during a desert camping trip, which were on a mission to collect earthlings for experimentation. Younger members of them were also encountered by Duck Dodgers around the year 2350. One of them would also be caught sleeping on the job of guarding a ship and failing to notice as Bugs and Daffy hijacked it.
Ad blocker interference detected!
Wikia is a free-to-use site that makes money from advertising. We have a modified experience for viewers using ad blockers

Wikia is not accessible if you've made further modifications. Remove the custom ad blocker rule(s) and the page will load as expected.