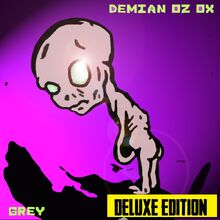 Grey (album by Demian Oz Ox)
They say Demian Oz Ox, the amateur dubstep artist made contact with a Grey alien. He believes he knows their plans but decides not to reveal them or 'they' will come back for him.
His album can be found on https://soundcloud.com/demianozox/sets/grey-deluxe-edition
Demian says he was inspired by Grey and since he was a little kid he had an obsession with aliens and was once afraid of them.
He is also inspired by Skrillex, deadmau5, Doctor P, Nine Inch Nails and Daft Punk.
The album is available for free download but he made the quality suck for the free version, I think I'm gonna buy his Deluxe Edition Grey.