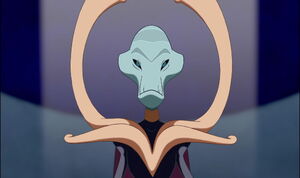 The
Grand Councilwoman
is the leader of the United Galactic Federation, seen in
Lilo & Stitch
. She was also once the secondary antagonist. Others occasionally refer to her as "Your Majesty" and "Your Highness," and on the whole she seems both reasonable and well-intentioned, although like many members of the United Galactic Federation, she knows almost nothing about Earth or its inhabitants. She is of an unknown species by name, but she seems to be reminiscent of the Greys, with hoof-shaped feet, large black eyes, a big head, and is almost eight feet tall.
Ad blocker interference detected!
Wikia is a free-to-use site that makes money from advertising. We have a modified experience for viewers using ad blockers

Wikia is not accessible if you've made further modifications. Remove the custom ad blocker rule(s) and the page will load as expected.