This article is a stub.
You can help by logging in and expanding it.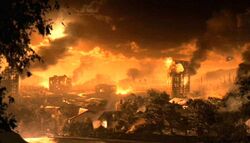 The Colonization was the home of the Colonists, featured in The X-Files television series. In one of the episodes of the TV series, Fox Mulder created a hallucination of the Colonization.
The "Colonization" is also a project of the shadow government known as the Syndicate. The Colonists, whom arrived on the planet Earth prehistorically, awaited Colonization.