This article is a stub.
You can help by logging in and expanding it.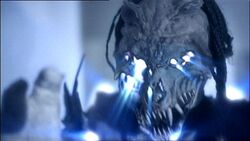 This race of alien beings appeared in the 2005 unsuccessful film Alien Abduction.
Appearance
These Aliens come nowhere close to matching the way that eyewitnesses describe an actual Alien. However, they are quit frightening. A blue light seems to glow from their heads which are basically skulls. They also seem to have hair like that of the Predator species.
Ad blocker interference detected!
Wikia is a free-to-use site that makes money from advertising. We have a modified experience for viewers using ad blockers

Wikia is not accessible if you've made further modifications. Remove the custom ad blocker rule(s) and the page will load as expected.