This is the Alien Wiki news archive, where you can read all news articles posted on the wiki after they have been removed from the home page. Any out of date news articles will be updated here as well. The news articles are organized by the date posted on the home page.
2014
October
October 22, 2014 - CIA admits to the existence of Area 51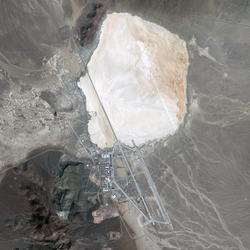 In recent times as of 2013, the United States Federal Government and the Central Intelligence Agency (CIA) have officially acknowledged the existence of the controversial Area 51, a United States military aircraft base located in Nevada. The confession of Area 51's existence has left many extraterrestrial enthusiasts pondering why now to admit that it actually exists, both putting an end to many conspiracy theories while also building up the opportunity for more to come in the future. The CIA continues to deny that Area 51 contains the raw bodies or samples of extraterrestrial life and alien aircraft, although this does not eliminate the possibility for alien and UFO researchers.
An article posted on The Washington Post in August of 2013 attached an alleged satellite image of Area 51 collected earlier on February 26, 2013, as the article claims. There continues to be no evidence that the alleged satellite image is genuine of simply an advanced computer generated rendering.
Ad blocker interference detected!
Wikia is a free-to-use site that makes money from advertising. We have a modified experience for viewers using ad blockers

Wikia is not accessible if you've made further modifications. Remove the custom ad blocker rule(s) and the page will load as expected.