This article is a stub.
You can help by logging in and expanding it.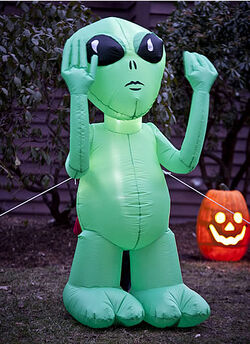 The Airblown Inflatable Alien is an alien decoration released in September 2012. It features an alien with two hands held up as if to say "I come in peace!" or "Take me to your leader!". It is manufactured by Morbid, Inc and Gemmy. There are two other versions of the Airblown Inflatable alien available.
Gallery
Ad blocker interference detected!
Wikia is a free-to-use site that makes money from advertising. We have a modified experience for viewers using ad blockers

Wikia is not accessible if you've made further modifications. Remove the custom ad blocker rule(s) and the page will load as expected.